Ahh  it's that time of year when the first crisp breezes in the air signal the end of summer. Say goodbye to those hot summer nights and beach blanket bikini weekends… But don't despair… because when you think about it, there is just something so scrumptious, sexy and romantic about the very idea of an autumn weekend. For one, it's the time of year when we all get to enjoy nature's explosion of a whole new beautiful palette of colors. No matter what your weekend pastime is, you are surrounded by the beauty of fall.   With cooler temperatures, not only is every day a potentially great hair day, but it's the perfect time of year for long romantic walks, perhaps culminating in a little warm and cozy spiced pumpkin latte sipping fest at an outdoor cafe where you can people watch and enjoy all the fabulous textures of fall fashions…ahh yes… the list goes on. Did we tell you that we love fall?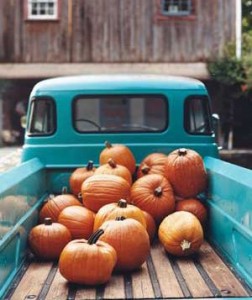 Autumn is the time of year when we all want to get out and enjoy all that this season has to offer, so who wants to spend a ton of time looking like they've tried hard to look their best?  Let mother nature do all the work when it comes to your weekend beauty regime and to boosting your Saturday sex appeal.  With added accessories like boots ands scarves, and the bursts of color all around us, when it comes to your beauty regime, less is more. This is the time of year when hair and make-up should be at it's most subtle. Follow these three very basic beauty tips and we promise, your Saturday sex appeal regime will be as easy a walk in the park!…
1. Go For Volume!
Even fine, hair can get some va-va-voom with this  super easy volumizing technique: Spritz a light amount amount of Polished Hair Care's Dirty Girl Dry Shampoo to your roots and massage into your roots and outward. Take your hand and brush hair back away from your forehead and flip your part in the opposite direction of where you normally wear it. If you're feeling especially ambitious, you can hit it with the blowdryer on medium heat for longer-lasting volume.  *When you're styling your hair, use your fingers rather than a brush to comb strands into place to allow for soft, natural texture that looks touchable. Brushes tends to flatten hair, which is rarely the goal when you want that sultry Bridget Bardot kinda Saturday afternoon  look.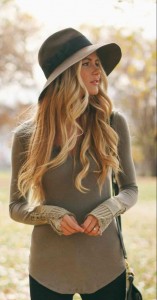 2. Bare those Lips!
Switch from those hot summer lip colors to  a more toned down rosy lip balm-( choose a color close to your own lip color,) or use a lipstick with a creamy natural finish. Colors close to your natural lip color require less maintenance. Not sure what works best? Try Rimmel London's Kate Moss Collection~easy on the wallet and beautiful natural colors!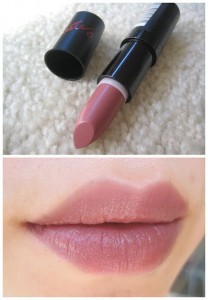 * Apply the neutral color to your lips , then dab gloss or highlighter in the center. This is one of the best ways to give your lips a sexy, plumped appearance: A creamy matte lipstick in a rosy nude shade will boost their natural color, while a bit of incandescence blended into the middle will create a fuller look.
3. Glow from Within!
For a healthy glow, drink lots of water as per usual… but also use a creme blush for a glow from within look.  Powder blush can appear chalky on skin, while cream blends beautifully into the skin for a dewy effect. Smooth it into the apples of cheeks for a pop of color, or blend it up toward your temples for a more sculpted look. We've been raving about L'Oreal Visible Lift Creme Blush is…It comes in a number of shades (pictured here is "Soft Peach"). Blending is a snap with this truly fabulous product. It's easy to apply and using just your fingers the more you blend, the more you can control the pigmentation. If you prefer more color, just stop blending. If you like a more subtle look, keep on blending and you'll get there. It's totally adjustable because it doesn't really "set". It's more like a powder blush in that regard–it doesn't set like a liquid cheek tint does- yet it has great staying power….It costs about $10.00 and trust us when we say, it gives high end products like Nars Creme Blush ($30.00) a good run for its money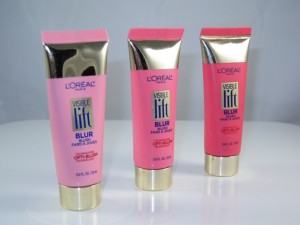 // ]]>
So. what are you waiting for? Go and get your Saturday Sexy 123 on… it's that simple….
Until next week,
Love you, mean it!