If that gorgeous hair shade you left the salon with is not the same color you end up with 3 weeks down the road….(and this might be particularly true for blonde hair which tends to change color the most)…here is something to consider: One cause of fading hair color is oxidation. Oxidation is a natural process that occurs when oxygen molecules in the air attach themselves to color molecules in your hair. The end result is dull and faded hair color. While there's not much you can do about oxidation, you do have power over one contributing factor: sun exposure. Keeping your head covered in the sun with a cute scarf or trendy hat will dramatically reduce fading.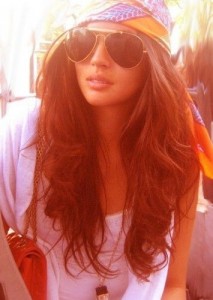 You also have the power to at least stave off color fading and making that gorgeous hue last longer between visits to your colorist by adhering to these five hair color maintenance rules:   1. The first step to maintaining your color is of course, scheduling your salon visit about every six weeks for all-over color, and no longer than three months for highlights.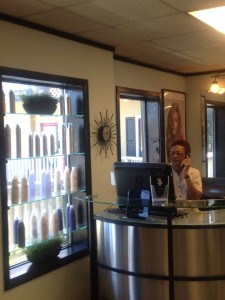 2. Let your stylist help you choose a suitable color…Although going the complete opposite of your natural hair color can be incredibly daring, it also means that you will need to re-dye as soon as your original roots start showing…. Thus, choosing a color that is somewhere in the range of your natural hue will make the finished look hold that much longer!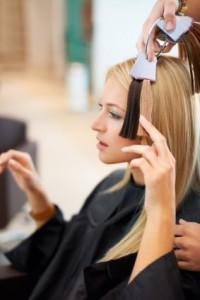 3. Shampoo and your water type can also influence color fading. Hard water that is mineral heavy can leave deposits on hair that dull and fade color. This is exacerbated if you use a harsh or medicated shampoo, which can actually strip color.  To reduce fading, choose a salon quality shampoo with gentle ingredients, (preferably parabens-free). Salon products are for the most part much better than the products on big store shelves… Why? Because they tend to have better ingredients! REMEMBER: When you examine the ingredient list on a bottle of shampoo, what you see listed first is what there is most of in the bottle and so on until the end of the list which is what there is least of in the bottle. Read your ingredients… and by the way, if you ever have any questions about a particular ingredient and how it affects your hair…just ask us…we know all about hair care ingredients-  Always look for products for color treated or damaged/dry hair. You might also want to try a color enhancing shampoo, a temporary product that revitalizes hair and pumps up color between salon appointments. However, be sure to tell your colorist if you are using these shampoos as some can impact the performance of permanent hair coloring.   4. Water Temperature: Hot water is NOT the best for any type of hair, but it can be particularly damaging to hair that has been given the color treatment. Cooler water is definitely the way to go when it comes time to shampoo and condition your hair, and we can almost guarantee that you will feel as good as your hair looks after getting the cold treatment.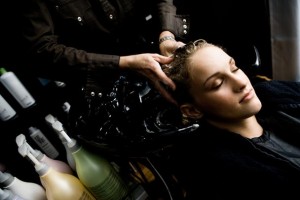 5.  When hair is glossy, it fools the eye into seeing color as fresher than it is-ask your colorist about having a professional gloss applied to your hair. It will add shine and adjust the tone of your hair. Use Argon Oil as a conditioning styling product for daily shine as well!
Until next week… Love you, mean it!