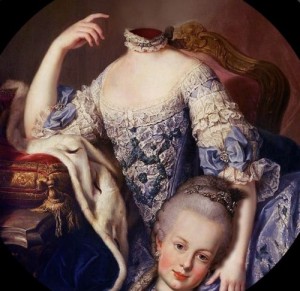 We asked our clients what would be a good blog topic for the week and one of our dear friends suggested that we talk post something about the subject of skincare and  tanning.  … What springs to our minds immediately on the topic is that if there could be one piece of sage advice we could impart when it comes to your summer skincare routine and the almighty sun… it would be to use sun block, especially on your face, neck and décolleté. These areas are highly visible parts of our body, and the most evident indicators of aging skin….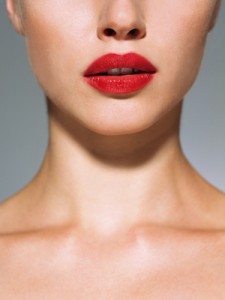 Most of us already do take special care of the skin on our face, but often forget our neck and décolleté!… Trust us when we say that over the years the mismatch between the skin on your face and neck and chest will become really noticeable if you don't protect those areas. ….   Okay, blah, blah blan, so no more preaching about how bad the sun is for your skin, but ladies… please protect these areas ! Better yet, why not try sunless tanning? There's a kah -zillion products and methods out there, and things have gotten a lot better since the days of those horrible oompa loompa early self tanning creams… And we certainly don't want this: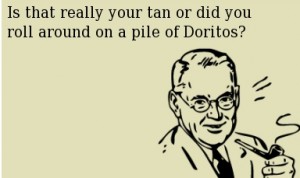 And while there are some great self tanners on the market (believe it or not, we hear from a fair-skinned friend that good old Jergens Natural Glow Moisturizer for a sun-kissed look is the bomb!~ Our friend says the trick to even-application is to "cut" it with regular lotion, apply a dollop of each in your palms and mix well before applying.) It looks natural and lasts for several days.
*Ask any professional airbrush stylist what the biggest mistake women make in applying home tanning solutions and they will tell you it's applying TOO MUCH. The best and most basic advice when it comes to self -tanners is to GO LIGHT, and apply more the next day if needed. Who doesn't love a sun kissed look in the warmer months? Our advice? Go with a professional spray tan. Though a spray tan is an extra expense, there are some great reasons to invest in the process. It's not only an easy and quick process, but it's also a safe process. If you want an even tan and want to eliminate tan lines and cancer risks, then consider taking this route:
Check out Low Country Bronze :http://lowcountrybronze.com/about/
And so friends, we will leave you with these 10 facts.  You'll need to know them before you head out to get that perfect glow:
1. A spray tan typically last about 5-7 days from one application.
2. Shower and exfoliate before you tan. Be sure to slough away any dry, flaky skin before you get a tan so that the spray will be able to adhere to fresh, clean skin. Use a soft boar bristle brush ( you can pick one up at the dollar store) and dry brush your skin before you shower.) This'll insure the smoothest, most even result. Immediately after you tan, wait at least five hours (more if you can) before showering again.
3. Spray tan products are meant to slowly fade as your top layer of skin regenerates, so you won't be able to simply scrub it off yourself (hence why it lasts about a week).
4. Apply moisturizing lotion every day. Btw, did you know that in addition to the amazing properties it has for your hair, Salon International's Polished  Hair Care Argon Oil can be used on your skin as a moisturizer?  It's the most amazing stuff! Order here: http://www.polishedhaircare.com/collections/frontpage/products/argan-oil
* Keeping your skin hydrated is the best way to make your tan last longer. Drink plenty of water too!
5. Your spray tan WILL get darker: Spray tans get darker from the time they're applied and as the day progresses. The color takes a bit to show up, so don't be alarmed if you leave the salon feeling like it's too light, it WILL darken as the day goes on.
6.When you get out of the shower, PAT YOUR SKIN DRY with a towel instead of wiping. This will help preserve your "tan."
7. Wear nail polish: Wearing polish will help to protect your nails from the spray tan. If you do have a full manicure on, though, don't worry about it getting ruined. You can  easily wipe off  painted nails afterwards.
8.  Apply barrier cream: Anywhere on your skin that absorbs more — your elbows, ankles, and knees — should have a barrier cream applied before the tan so that the color comes out looking even.
9. If it's your first time getting a spray tan or you have fair skin, don't choose the darkest shade the salon has to offer. Shock and anxiety will only ensue…;-)
10. Look for a discount deal: So many spray tan salons have deals on group discount sites like Groupon and Living Social. Don't miss out on getting a good deal!   See you next week, all you bronzed Gods and Goddesses! Muahhh!